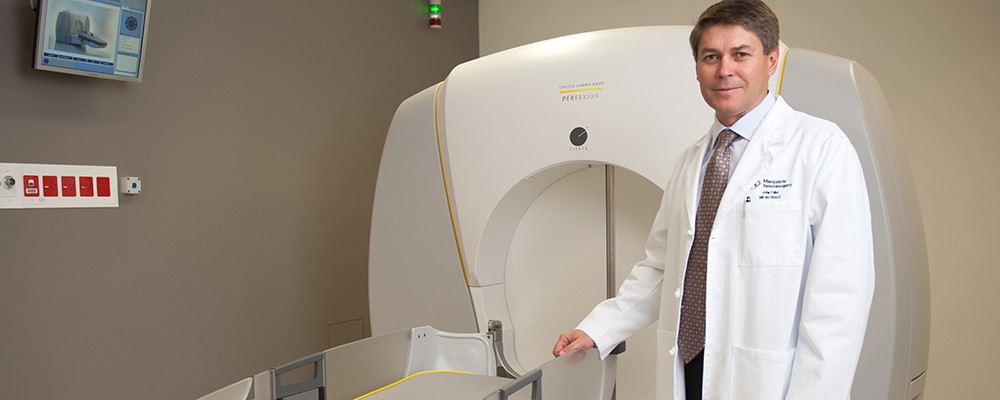 What is Gamma Knife Surgery?
The Gamma Knife is a specialised treatment machine designed to provide stereotactic surgery to a highly defined target within the brain. Working together, neurosurgeons and radiation oncologists identify the target and develop a plan to deliver an extremely accurate dose of radiation while reducing exposure to sensitive healthy tissue. The focused concentration of gamma rays to a targeted area in the brain can be performed with the utmost surgical precision.
Treatments
Gamma Knife treatment is minimally invasive and uses highly accurate delivery of radiation from 192 cobalt sources around the head to treat lesions within the skull. These converge at the point of treatment, ensuring highly accurate delivery of a therapeutic dose to the lesion or target while greatly reducing the dose delivered to the surrounding healthy brain tissue. We treat patients with the following intracranial conditions:
Cerebral metastases
Acoustic Neuroma
Meningioma
Aterio-venous malformations (AVM's)
Trigeminal neuralgia
Pituitary tumours
Glioblastoma Multiforme (GBM)
Glomus Jugulare tumours
Other conditions that may be suitable for Gamma Knife are haemgioblastomas, PNET tumours, schwannomas, chordomas, craniopharyngioma and functional disorders such as Parkinson's Disease. For more information about the Gamma Knife performed by Dr John Fuller please visit muh.org.au/ServicesSpecialties/GammaKnife.